Type in a keyword of phrase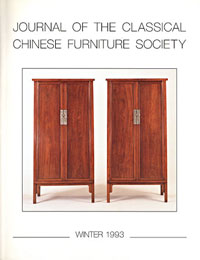 Journal of the Classical Chinese Furniture Society, Winter 1993
Classical Chinese Furniture Society

Vol. IV, Number one, 72 pp., fully illustrated, Renaissance, 1993.


Clunas, Craig. Klaas Ruitenbeek's Lu Ban Jing: A Review.
Evarts, Curtis. The Classic of Lu Ban and Classical Chinese Furniture.
Handler, Sarah. Cabinets and Shelves Containing All Things in China.
Ruitenbeek, Klaas. The Lu Ban Jing: An Annotated Translation.
Sickman, Laurence. Classic Furniture and Decorative Arts: The New Gallery at the Nelson-Atkins Museum.
$50.00