Type in a keyword of phrase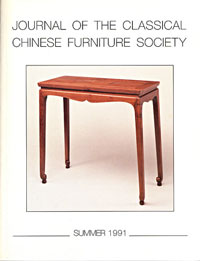 Journal of the Classical Chinese Furniture Society, Summer 1991
Classical Chinese Furniture Society

Vol. I, Number three, 72 pp., fully illustrated, Renaissance, 1992.


Ellsworth, Robert H. "Some Further Thoughts on Chinese Furniture."
Evarts, Curtis. "The Development of the Waisted Form and Variations in its Joinery."
Evarts, Curtis. "The Association of Classical Chinese Furniturein Beijing."
Handler, Sarah. "Perfumed Coals in Precious Braziers Burn."
Kates, George Norbert. "Two Early Exhibitions at the Brooklyn Museum."
Luo Wuyi. "The Art of Ming Dynasty Furniture."
Pirazzoli-t'Serstevens, Michèle. "Chinese Furniture in the Han Dynasty (206 B.C.-A.D. 220)."
Tian Jiaqing. "A Pair of Inscribed Ming-style Official's Hat Armchairs."
Wang Shixiang. "In Memory of Mengjia."
$25.00