Type in a keyword of phrase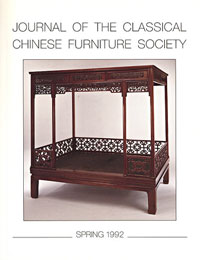 Journal of the Classical Chinese Furniture Society, Spring 1992
Classical Chinese Furniture Society

Vol. II, Number two, 76 pp., fully illustrated, Renaissance, 1992.


Evarts, Curtis. The Nature and Characteristics of Wood and Related Observations of Chinese Hardwood Furniture.
Handler, Sarah. A Little World Made Cunningly: The Chinese Canopy Bed.
Yang Hong. The Dunhuang Cave Paintings: A Study of Depictions of Furniture from the Tang Dynasty and the Five Dynasties Period.
Yetts, Perceval. Concerning Chinese Furniture.
Wang Shixiang. The Merits and Defects of Ming and Early Qing Furniture.
$40.00