Type in a keyword of phrase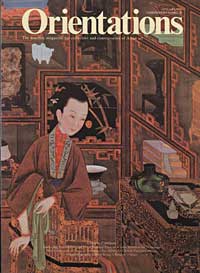 Orientations January 1993 Volume 24 Number 1
Orientations

74 pp., fully illustrated, paper, Hong Kong, 1993.


Tian Jiaqing. "Early Qing Furniture in a Set of Qing Dynasty Court Paintings."
Menshikova, Maria. "A Lacquer Table Screen in the Hermitage Museum."
Handler, Sarah."Outstanding Pieces in Private Collections: Chinese Classical Furniture in New American Collections."
Evarts, Curtis. "The Artistry of Chinese Furniture Joinery: A Manifold Expression."
Piccus, Robert P. "Chinese Furniture in Hong Kong."
Cooke, Christopher."Antique Chinese Furniture: A Restorer's Notes."
$15.00