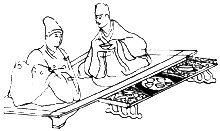 Low platforms were another early form of raised seating furniture which were used as honorific seats by high officials and religious dignitaries during ceremonial and sacrificial rites. Records from the Han dynasty (206 BC-220 AD) indicate that these sitting platforms were called ta; the relatively longer chuang was used both for sitting and reclining.

With the eastward migration of Buddhism from India, chairs and raised platforms began to appear with more frequency as the status enhancing seats of great masters, along with the custom of disciples gathered around seated upon stools. Hourglass-shaped stools made of straw and basketwork also begin to appear during the Northern and Southern Dynasties (386-586 AD) period; similarly shaped stools of rattan are still found throughout modern China.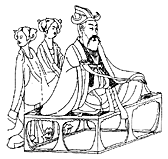 During the transitional period—from mat to chair—kneeling and cross-legged positions upon the seating platforms was common. Additionally, the raised platform also began to function as a large, medium-height table for dining.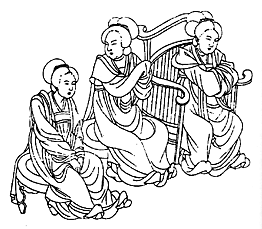 By the Tang dynasty (618-907 AD), stools and chairs had become common amongst the elite and those of rank. Prototypes to the yoke back chair as well as the round back chair appear in contemporary paintings and wall murals which depict the sitter with legs both pendant and crossed.
By the Northern and Southern Song (960-1279) periods, many types of high furniture had developed and were commonly used throughout all circles of life. Scenes recorded within contemporary paintings as well as archeological finds reveal that tables, chairs, stools, and benches of the architecturally related recessed-leg style were widely used.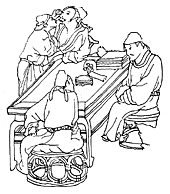 Waisted cornerleg furniture is also evidenced in Song paintings, although, this more elegant form, with roots tracing back through Gandhara to early Greek architecture, appears to have been reserved for the elite and for activities of ritualistic and ceremonial significance.