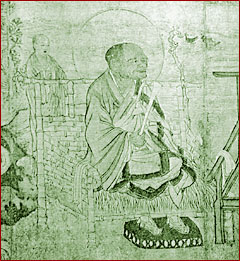 Like the artistry and craftsmanship in wood furniture, paintings also reveal that bamboo furniture-making techiniques were also highly developed by the Song dynasty.
Luohans
seated in bamboo meditation chairs also show parallel associations of common bamboo with asceticism and humility. Moreover, bamboo also characterizes the virtues of strength and endurance; it yields to the strongest winds without breaking; its hollow body has the capacity for usefulness, and its ascending nodules reveal the spirit of fortitude. Thus, bamboo was also popular amongst the aspiring Confucian scholar.

Amongst its myriad of uses, bamboo was commonly employed during the Ming and Qing dynasties to make chairs, stools, beds, bookcases, tables, matting and curtains. Various types of bamboo were also used, including golden bamboo, purple bamboo and speckled bamboo; the latter, with its delicate tear-drop patterns. was a favorite of the scholar.

Bamboo furniture constructions varied from simple to elaborate. Many were primitive constructions with frames of stout bamboo that were left open on the ends, and with strips of bamboo for panels and surfaces. Such works frequently appeared as common household furniture in the poorer rural regions. Although not of particular high quality, those with beautiful old surfaces exhibit an appealing charm.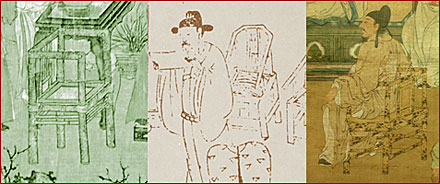 Elaborate types were tightly packed with latticework or secondary inner frames. The horizontal surfaces often finished with black lacquer, and the ends may be capped with ivory or bone. The legs were sometimes composed of several lengths of bamboo pinned together rather one thicker growth. Such high quality works were used by the Imperial family at the Palace.

Bamboo furniture was lightweight and was easily moved about. It was also well suited to the hot summer season when bamboo beds and chairs were brought out for use. The late Ming author Wen Zhenheng wrote, "The long summer is well suited for the open room. All the windows can be removed with
wutong
trees shading the front and bamboo at the back.…. A speckled bamboo daybed with bamboo matting placed along the north window provides an excellent place to rest…. Curtains of speckled bamboo hanging around the surrounding walls will make the room feel cool and refreshing.